Registered Users Only
Updates are for Registry Toolkit registered customers only and will not work with shareware versions. They require a password. You will receive the password and additional instructions via e-mail.
Update Instructions
1. Run Registry Toolkit and look at the version in the About box (use the Help/About menu or the '?' button on the toolbar). If you have version 3.6, you have the latest and do not need a patch.
2. If you do not have v 3.6, download the patch utility below. Make a note of the file name and the location where your browser saves the file. If your browser offers a choice, please save the file to a temporary path on your hard disk instead of using a 'Run from here' type prompt.
3. Use your file manager or Windows Explorer and navigate to where the patch utlity was saved. Double click on the utility to run it.
4. The patch utility will request a password. The password was sent to you via email. Copy and paste the password from the email message into the prompt. Or you can type it in by hand if you are an accurate typist (green arrow).

5a. The patch utility will suggest a path for your current installation. If you used our standard installer to install Directory Toolkit the suggestion should be correct - Click on the Yes button. If you made a manual installation in some way, click on the No button.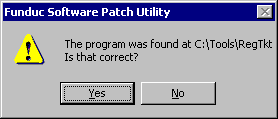 5b. If you installed manually, use the path browser (blue arrow) or manually type in the path to your installation of Directory Toolkit.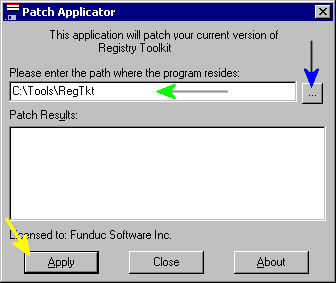 6. Click on the Apply button.
7a. The patch utility will then apply the patch. If you receive an 'All files successfully patched ...' prompt, you are done. You can close the patch utility and erase the file you downloaded if you want.
Patch Successful Response


7. Do not panic if you receive a 'Some files may have been missing...' response similar to the below. Directory Toolkit will continue to function but it will be your original version. Per the instructions in our email about the update, reply to that note and we will follow up.
8. If you use a the german interface module, visit the Registry Toolkit - German page and follow the links to obtain a module for version 3.6.
Write support@funduc.com if you need to update from an older version or have any other questions. Thanks.
The patches require passwords, which will be distributed via e-mail during the update period you are entitled to as part of the registration (12 months on new licenses). Extensions may be obtained for $11 per user per year. Renewals are effective from the expiration date of your current license. Contact support@funduc.com if you have questions about passwords or license renewals.
Thank you for using our software!